Activity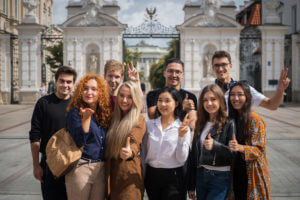 Centre of Polish Language and Culture for Foreigners Polonicum is a modern centre of research and didactics at the Faculty of Polish Studies of the University of Warsaw. Our young team carries out scientific research, educates teachers of Polish as a foreign language, promotes the Polish language and culture abroad, executes Certificate Examinations in Polish as a foreign language, organises and conducts postgraduate studies related to Polish glottodidactics.
The basic form of our activity is teaching the Polish language and Polish culture to foreigners. We are offering our courses, language classes, lectures and trainings not only to students of the University of Warsaw, but also to students of other universities, as well as to any person interested in our country, culture and language.
While the Polish language classes are the most popular, they are not the only thing that we offer. One can also participate in workshops, online courses, conversation sessions, lectures on modern Polish culture, on everyday life in Poland, on different cultures' encounters and mutual influences, on similarities and differences between our culture and other cultures, and on how much Polish culture owes to inspirations from our closer and further friends. Some of our lectures are in English.
Apart from the traditional form of classes, foreigners can also take part in film screenings combined with discussions and lectures, as well as in multimedia programs that will bring you closer to Polish history, culture and traditions. For many years, together with the National Ethnographic Museum, we have been organising workshops focused on Polish folk customs related to St. Andrew's Day, Christmas and Easter.
A very important part of our activity are summer courses of Polish language and culture. Each year, since 1956, we have been inviting everyone interested: Polish government scholarship holders, students, and other individuals. The course, accessible for everybody, takes place in August and includes not only daily language classes, but also lectures, film screenings, trips, social gatherings, as well as learning the Polonaise, a traditional Polish dance.
Additionally, Polonicum prepares numerous candidates for the profession of the teacher of Polish as a foreign language. For many years, we have been running Postgraduate Studies "Polish Glottodidactics " for humanists interested in the profession of a teacher of Polish as a foreign language.
Many of our students and alumni have bound their lives with our country. They either settled down in Poland, they cooperate with Poland in the area of business and culture, or they work as translators, diplomats, politicians, scientists.
Polonicum is not an ordinary place. Here, one can meet young people from abroad, often from feuding countries, who discuss with each other in all the languages of the world, and very often in Polish. At times, it is difficult to resist the impression that Polonicum is a modern Tower of Babel. Multicultural student groups are a common thing, with Europeans and Africans being together with participants from Asia and South America. All that is happening in the process of learning the language of Adam Mickiewicz and Jan Kochanowski. We are glad that the Polish language can bring people together, and even make them fraternise with each other. Friendly ties that have connected the students of Polonicum, and the students with Polonicum, can last for many decades. Our most faithful student has been coming for our summer course of Polish language and Polish culture for twenty five years.
We invite everyone interested in learning the Polish language and learning about Polish culture to join us. Our headquarters is located in the very centre of old Warsaw, at Krakowskie Przedmieście, in the beautiful historic Tyszkiewicz-Potocki Palace.
History
Our Centre has a long and colourful history, which began in 1956, when the first post-war Polish language summer course was held at the University of Warsaw. The participants of the course were foreign Polonists and Slavists from 15 countries. In this way the University referred to the events that took place a quarter of a century earlier, in 1931, when a monthly summer course of Polish language and Polish culture for foreigners was organised for the first time in the re-born Republic of Poland (at the Jagiellonian University). The University of Warsaw organised or co-organised all of the summer courses in the 1930s.
The name "Polonicum" has been functioning at the University of Warsaw since 1960. It is worth remembering that fact, as this unique latinism is also used by other companies for their own commercial purposes. Our centre has been fulfilling its mission for many decades, regardless of the structural changes that our University has been going through. Regardless of whether we have acted as a "post-secondary school", "institute" or "center", we have always worked for the benefit of the enthusiasts of the Polish language and Polishness coming from all parts of the world – and always as "Polonicum".
Our students
Among our students, there are foreigners studying at different faculties at the University of Warsaw and at other higher education institutions in Warsaw, students coming to Poland in the framework of the Erasmus+ programme, scholarship holders, grant beneficiaries, persons doing one-year or several-month-long scientific internships, Polish Government scholarship holders, representatives of Polish diasporas abroad, and many others interested in the Polish language and culture of our country. The "Polonicum" courses are also taken by foreigners who are not formally associated with any university: employees of international companies and institutions, diplomats, members of their families, foreign spouses of Polish citizens, adult children of Polish diaspora families abroad, persons applying for the right of residence in Poland or for Polish citizenship.